Oleo – Relax: Kerastase smoothing serum with palm oil
Is you hair dry, unruly and frizzy? Does a morning styling look like a battle for perfect smoothness and good hair condition? Help yourself to win the fight for beautiful, tamed hairstyle and smooth, shiny and manageable strands. Smoothing Oleo – Relax Serum enriched with palm oil is going to help you.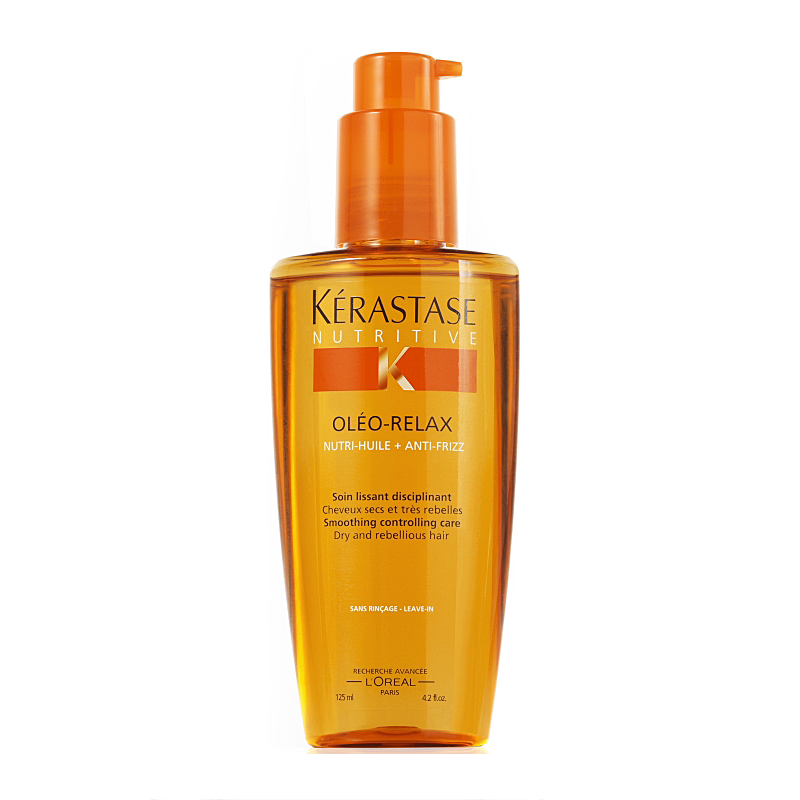 The serum comes in an orange plastic 125 ml bottle. It has an atomiser which sprays a delicate mist of subtle scent on your hair. 2-3 pumps are enough for styling.
Oleo – Relax with palm oil intensively smooths hair, without weighing it down. It prevents frizz, protects from dampness and controls the look of your hairstyle for long hours. As a consequence, your hair becomes smooth, bouncy and silky soft.
Oleo – Relax contains silicone derivatives, therefore it creates a protective layer on hair surface and controls moisture inside your strands. As a result, your hair isn't dry and, at the same time, it doesn't absorb too much moisture inside thus it doesn't get frizzy.
Palm oil protects your hair from adverse weather conditions. Your hair doesn't absorb toxins. Thanks to beta-carotene and coenzyme Q10, it moisturises, adds shine and slows down ageing processes. What is more, palm oil contains large amounts of vitamin A and E which take care of hair condition, deliver shine, prevent brittleness and keep your strands moisturised. Thanks to beneficial substances and vitamins, palm oil strengthens your hair and participates in the creation of collagen fibers.
Kerastase serum with palm oil has been enriched with shorea oil. It is pressed from the seeds of Indian plant known as shala tree. Shorea oil excellently softens your hair, restores its resilience and conditions your strands.
Oleo – Relax with palm oil is very efficient. Women with stiff, curly, dry and frizzy hair are going to like the product. Palm oil reduces static, therefore it is a perfect styling serum for summer as well as winter.